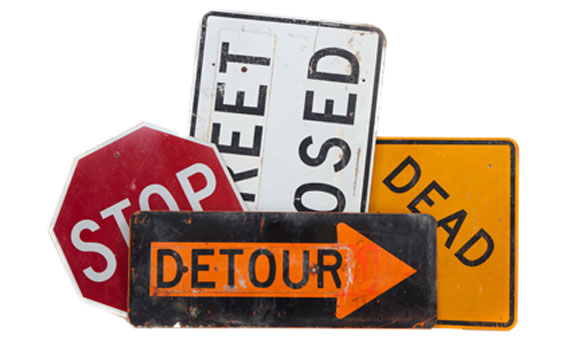 Time to Replace Old Signs?
Official MUTCD website: https://mutcd.fhwa.dot.gov/
The 2009 version of the MUTCD Manual contains the most widespread changes, additions, and deletions to sign designs. The goal of the FHWA is to make signs bigger, brighter, and more understandable to all drivers including America's aging population. Driver studies indicated a need for an emphasis on symbol signs, mixed upper and lower case copy on guide signs, as well as larger signs for ease of readability.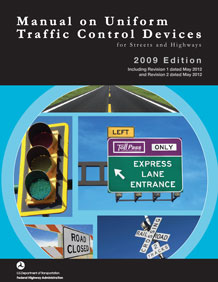 2009 MUTCD
view pdf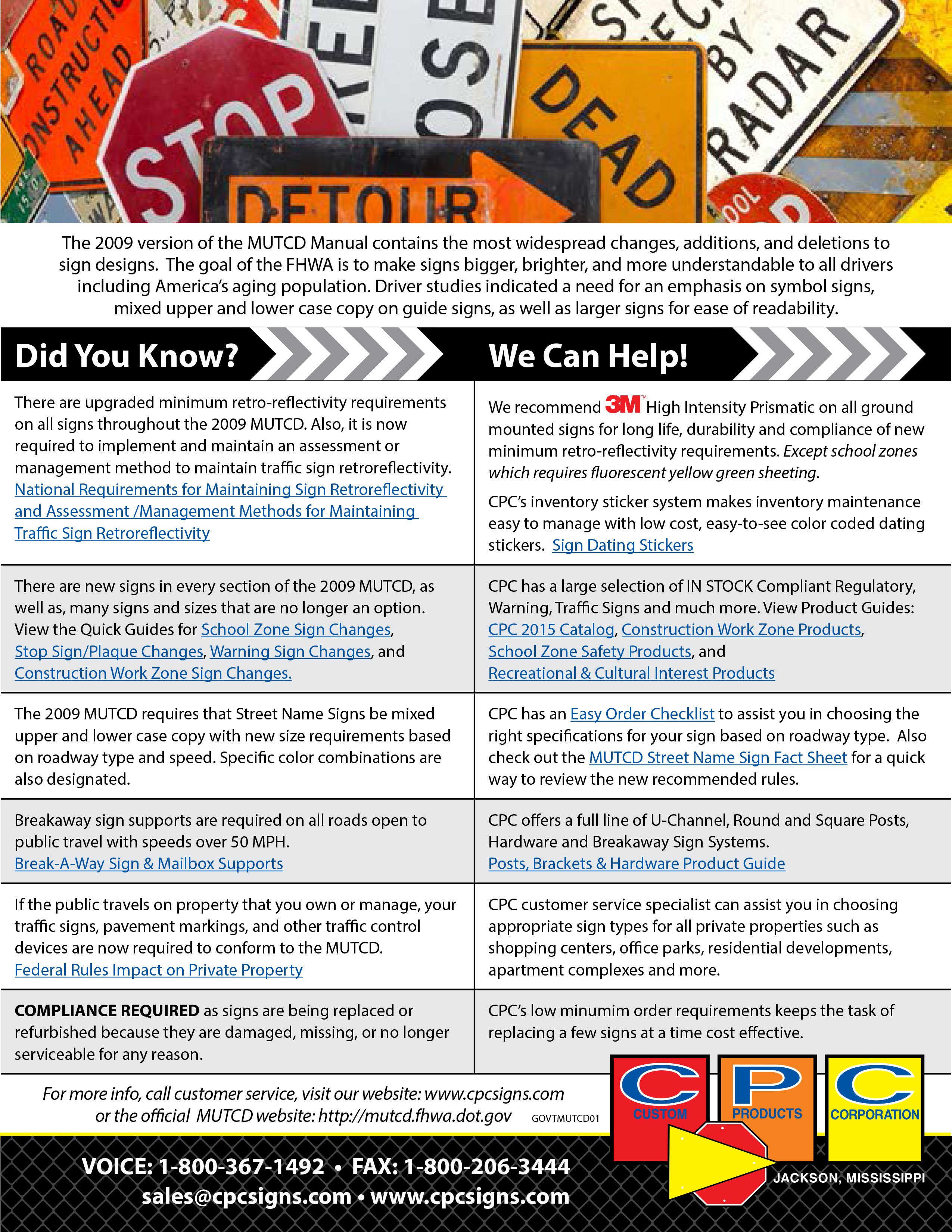 Quick Facts
view pdf

There are upgraded minimum retro-reflectivity requirements on all signs throughout the 2009 MUTCD. Also, it is now required to implement and maintain an assessment or management method to maintain traffic sign retroreflectivity.
National Requirements for Maintaining Sign Retroreflectivity and Assessment /Management Methods for Maintaining Traffic Sign Retroreflectivity
view pdf

We recommend High Intensity Prismatic on all ground mounted signs for long life, durability and compliance of new minimum retro-reflectivity requirements. Except school zones which requires fluorescent yellow green sheeting.
CPC's inventory sticker system makes inventory maintenance easy to manage with low cost, easy-to-see color coded dating stickers.
Sign Dating Stickers
view pdf
|
Buy Now

There are new signs in every section of the 2009 MUTCD, as well as, many signs and sizes that are no longer an option. View the CPC Quick Guides.
School Zone Sign Changes
view pdf
|
Buy MUTCD Compliant School Signs Now
Stop Sign/Plaque Changes
view pdf
|
Buy MUTCD Compliant Intersection Signs Now
Warning Sign Changes
view pdf
|
Buy MUTCD Compliant Warning Signs Now
Construction Work Zone Sign Changes
view pdf
|
Buy MUTCD Compliant Work Zone Signs Now

CPC has a large selection of IN STOCK Compliant Regulatory, Warning, Traffic Signs and much more. View the CPC Product Guides.
CPC Catalog
view pdf
|
Buy Products Now
Construction Work Zone Products
view pdf
|
Buy Now
School Zone Safety Products
view pdf
|
Buy Now
Recreational & Cultural Interest Products
view pdf
|
Buy Now

The 2009 MUTCD requires that Street Name Signs be mixed upper and lower case copy with new size requirements based on roadway type and speed. Specific color combinations are also designated.
MUTCD Street Name Sign Fact Sheet
view pdf

Breakaway sign supports are required on all roads open to public travel with speeds over 50 MPH.
Break-A-Way Sign & Mailbox Supports
view pdf

If the public travels on property that you own or manage, your traffic signs, pavement markings, and other traffic control devices are now required to conform to the MUTCD.
Federal Rules Impact on Private Property
view pdf

CPC customer service specialist can assist you in choosing appropriate sign types for all private properties such as shopping centers, office parks, residential developments, apartment complexes and more.

COMPLIANCE REQUIRED as signs are being replaced or refurbished because they are damaged, missing, or no longer serviceable for any reason.

CPC's low minumim order requirements keeps the task of replacing a few signs at a time cost effective.